Other Coupon Codes & Discount Deals (if available) :
CyberLink PowerDVD 20 - Amazing quality for home theaters with new 8K, 4K, and HDR video playback. Play & cast virtually any type of disc, video, photo, audio & ISO files. Immersive 360˚ VR experience with new spatial audio support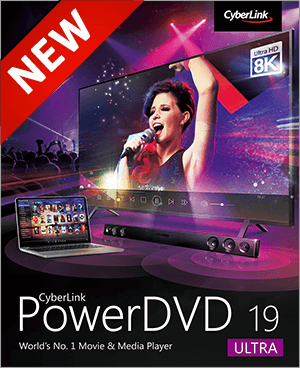 ---
Description for old version of CyberLink PowerDVD
CyberLink PowerDVD
The CyberLink PowerDVD is the ultimate media player for your PC. The CyberLink PowerDVD is a universal media player that allows you to play DVDs, Blu ray discs, music, and video files. It also allows you to view your photos. You can control the CyberLink PowerDVD remotely with your Android, iPhone, and iPad devices. You can also stream content from your mobile devices and the CyberLink PowerDVD's TrueTheater technology will upgrade your media experience.
You get the ultimate Blu-ray 3D and Blu-ray player movie experience because the CyberLink PowerDVD  11 supports GPU/CPU hardware acceleration for excellent playback quality. With the Ultra-fast Instant Seek feature, you can easily find the movie scene you want to watch on your DVD. The CyberLink PowerDVD allows you to play almost any video file format, including 3GP, 3G2, WTV, FLV (H.264), and MKV (H.264) formats. You can also view photos that are stored on your computer, DLNA server, smart device, Flickr, and Facebook. The CyberLink PowerDVD 11 also has a music player that plays and organizes your music collection from the Windows music library.
The CyberLink PowerDVD has advanced TrueTheater technology that enhances the quality of all media files. TrueTheater will enhance your videos to HD-like quality. You can also enjoy the depth and realism of 3D by applying TrueTheater 3D to your 2D videos and photos. TrueTheater can also enhance your home videos by stabilizing shaky videos, removing noise, and enhancing the video's details and brightness.
The Cyberlink PowerDVD also allows you to play videos, photos, and music from mobile devices such as the Apple iPad, iPhone, iPod Touch, and Android-based tablets and phones. You can even control the CyberLink PowerDVD using your mobile device as a remote control. The CyberLink PowerDVD also allows you to view and upload photos and videos to Youtube, Flickr, and Facebook.